Resumen en español al final del artículo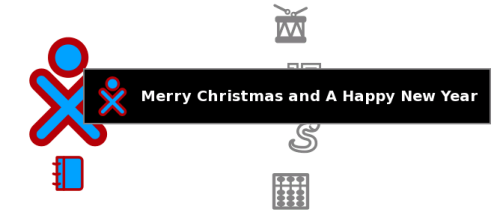 Now that we've finished decorating the tree here at the Derndorfer home everything is ready to start the celebrations: the false singing of Christmas songs, the unwrapping of presents and of course the subsequent feast (traditionally Raclette in my family). But before all of that gets underway I briefly wanted to wish all of our readers a Merry Christmas and A Happy New Year 2013. (Well, in case you happen to celebrate those two occasions that is.)
As is tradition I will be taking it easy for a week once today's Christmas celebration are over. I'll be spending three days skiing in the Alps and I've got a bunch of (e-)books with me which I'd like to read (high up on my list this year are Paul Tough's How Children Succeed - Grit, Curiosity, and the Hidden Power of Character and Cory Doctorow's Pirate Cinema).
I'll try to do my best to stay away from any work until after New Year's. Though I might just sit down at one point or another to at least start writing up some of the stories and developments which I didn't have time to think and talk about in the past two months.
Anyway, thanks a lot for being such a great, challenging, and supportive audience. I'm really looking forward to seeing you again in 2013! :-)
---
Resumen en español: Les deseo a todos nuestros lectores un feliz navidad y un prospero año nuevo. Despues de las celebraciones de esta noche yo voy a tomar una semana de vacaciones con tres días para esquiar en los Alpes y tiempo para leer unos libros. Muchas gracias por ser una gran audiencia, desafiante y de apoyo. Será excelente verles de nuevo en 2013!