Resumen en español al final del artículo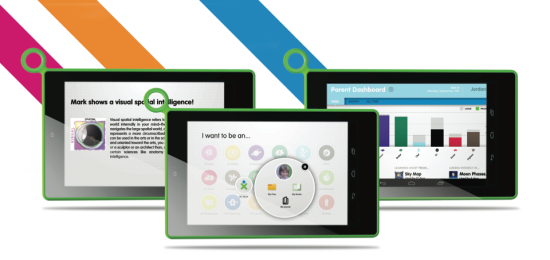 Ever since it introduced the Android-based Walmart XO Tablet at CES 2013 in early January OLPC Association has been remarkably quiet about it. The official Web site at xo-learning.org still looks like it was put together in a rush on a Friday evening, the blog on the site hasn't seen any updates since late January, and the anticipated launch-month of March went by without a single word from OLPC Association. Only the @xolearning Twitter account has regularly tweeted but it's been fairly generic chatter. This lack of updates, combined with OLPC's history of launching products which much fanfare only to quietly cancel them later (XO-2, XO 3.0) has led to some people wondering whether this was yet another vaporware announcement.
However according to an article on a Uruguayan Web site from last week Plan Ceibal recently decided to purchase 10,000 XO Tablets. According to the piece these tablets are part of an evaluation to decide whether Uruguay's 5- and 6-year-olds (which means pre-school and grade 1 pupils respectively) will receive a tablet, an XO or a hybrid (which sounds like the XO-4 Touch) in the future. Given that 47,000 pupils start primary school each year coming out on top of the evaluation could be quite a win for the XO Tablet, though naturally that would potentially cut into sales of the XO-4 (Touch).
What strikes me as somewhat odd about the evaluation is that the article indicates that it will be completed by the end of the year, even though the XO Tablets are only expected to be distributed in four months. Even excluding possible delays this leaves precious little time for any sort of evaluation and comparison with the 10,000 hybrid devices which are apparently also being evaluated.
Another interesting detail which the article reveals is that according to the current plans the pre-school pupils will have to keep their devices in kindergarten or pre-school whereas grade 1 pupils will be allowed to take them home.
Overall this is certainly good news. It's good for OLPC because, well, selling 10,000 XO Tablets indicates that it's not vaporware and Plan Ceibal has some confidence in the product. It's also good for Uruguay's pupils because it shows that Plan Ceibal continues to innovate and look for the most suitable technologies to integrate in the country's education system.
---
Resumen en español: Despues de no escuchar nada de OLPC Association sobre el XO Tablet que anunció en enero en los ultimos meses gente ya empezaron a preguntar si el producto verdaderamente existe. Pero la semana pasada se publicó un articuló en una pagina Web uruguaya que contó que Plan Ceibal había comprado 10,000 XO Tablets para evaluar el usó con niños de 5 y 6 años.